7:30- Michael (2) and I get up. Michael plays in the den while I make coffee. He yells through his brothers door, "BUUUDDDYYY!" a dozen or so times, but "Buddy" ignores him!
8:00-Check email, message boards, check Buddy's (13) notebook to see what we will work on for the day. Pull up and web resources he will be using and review the lessons.
8:30-Buddy gets up. Gets dressed and feeds and waters the horses, ducks, chickens and dogs. Eats breakfast and watches T.V.
9:00 - Drive Buddy to Living Earth School, where he will spend the day hiking and learning wilderness education.
9:30 - Bring Michael to visit his Grandmother, "Dyu Dyu".
12:00 - Meet Albemarle homeschoolers at part for play date.
1:00 - Visit with homeschooling friends to "talk shop" and play.
3:30- Pick Buddy up at Living Earth School, review his day.
4:00- Bring Buddy to Woodworking
4:15- Feed and Water the Animals
5:30 - Come home and make dinner.
8:00 - Read history text as family, add events to timeline.
9:00 - Buddy will Pen chickens and feed horses
(This is a particularly hard "running around" day, where Living Earth School substitutes for usual studies, most days we do 2 -2.5 hours work in the mornings
How to Change a Tire
Step 1: Pry off the wheel cover with the wrench and loosen the wheel nuts.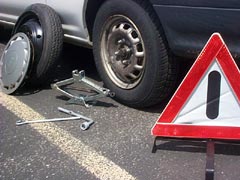 Step 2: Put the jack under the car.
Step 3: Use the wrench to jack the car until the wheel is about three inches off the ground.

Step 4: Remove the nuts, mount the spare, and thread the nuts back on by hand.

Step 5: Lower the car, remove the jack, and then use the wrench to fully tighten the wheel nuts.